Essential WordPress Plugins For Your Site
WordPress is the blogging software of choice for many bloggers. If you use WordPress, it is essential to use the right plugins to make your site run at its best. Most of these plugin choices really depend on what you are trying to accomplish. Below is a list of essential WordPress plugins to use in your site.
I love this plugin for SEO. It almost makes it too easy. When you are working on a new post, you can compare it against Yoast's checklist. It will tell you what is missing, what could be better, and gives you an overall synopsis of how good your article is. The plugin makes suggestions and is a good way to make sure that you have done all you can to make your post as SEO-friendly as possible. Alternatives are SEO Ultimate and All-in-One SEO
Akismet is a life saver. If you hate receiving spam and having it blasted all over your site, Akismet is a must-have for your WordPress site. The total number of spam that Akismet has thwarted on Creative Beacon since its beginning is 74,190! Think about having to do that manually. It would literally be an around-the-clock job to monitor the site. Akismet is one of the most essential WordPress plugins.
Disqus is a widely popular commenting system used on many blogs. Disqus enables different login options and social interaction. Some swear by LiveFyre, and others use different methods. Jetpack by WordPress has its own commenting system as well.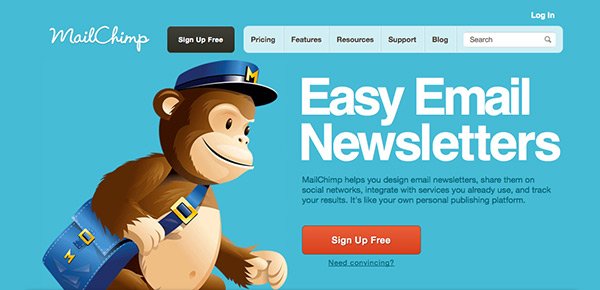 I use mailchimp for all of my emailing needs. I gather emails from those who wish to sign up for my weekly newsletter. I send my readers free stuff in their inbox, and the whole process is handled by Mailchimp. If you are just starting out, Mailchimp has a forever free program where you can have up to 2000 subscribers for free. After you reach that mark, you will have to pay. There are also tons of plugins to help integrate Mailchimp within your site, making it easy to implement sign up forms on your site. On Mailchimp's site, you can manage your mailing lists, create your newsletters, track your campaign stats and more. Other alternatives to Mailchimp are Aweber and Constant Contact. If you want to see a larger list of email marketing services, see this post.
Jetpack is a set of add-ons from WordPress to make your site that much better. Enable things such as Jetpack Stats to see the stats of your WordPress site. Look at incoming traffic, referrals, and more. Enable Jetpack Comments and subscriptions. Comments makes it easy to enable commenting on your site easily. Subscriptions get people to sign up and subscribe to your site. Visitors can also subscribe to follow-up comments. You can also enable Social sharing, Hovercards and a simple contact form for your site. This makes it easy to implement some great features on your site without knowing how to code.
Similar Posts is one of my favorites. Use this plugin or one similar to show a list of posts related to the one that you are currently viewing. Chances are, when people come to your site, they are looking for specific information. This plugin makes it so your visitors can find related content easily. If they are truly inquisitive and want to read more, this makes it easy for them. This boosts your pageviews, because visitors will click on more than one page when they can find what they are looking for.
This plugin is great for pagination. Instead of having next and previous buttons on your site to navigate between lists of your posts, visitors can jump through pages with ease. This plugin places numbers on your site so that visitors can click to go straight to a page.

You have to manage your site and optimize it, period. There is no getting around it. You have to do a good job of reducing load times and W3 Total Cache does this very well. Cache pages whenever possible and Minify CSS and Javascript. Learn how to use this plugin and it will be a great asset to you and making your WordPress site lightning fast. I would consider this as one of the most essential WordPress plugins. A great alternative is WP Super Cache.
Making your site run fast and reduce file sizes, Gzip compression is something everyone should do. This plugin helps to reduce bandwidth usage. It is recommended in the YSlow test for websites, and should be implemented in order to increase page speed.
I use this plugin to send me a daily backup of my database. This is a handy tool to optimize your WordPress database and keep things neat and tidy. You can set the plugin to do everything automatically as well. WP-DBManager can worry about your database so you don't have to.
Social sharing is a no-brainer for promoting your blog. It is a sure-fire way to drive traffic to your site. If you write quality content, you will most likely get as much or more traffic from social media sharing as you do from search engines. Sharebar is one of the most common ways to implement social bookmarking and sharing of your posts. There are many different alternatives, such as Sexy Bookmarks, Shareaholic, Sociable, and ShareThis. Social sharing encourages your visitors to promote your content and really helps your site to grow. I would consider any great social sharing plugin to be one of my most essential WordPress plugins.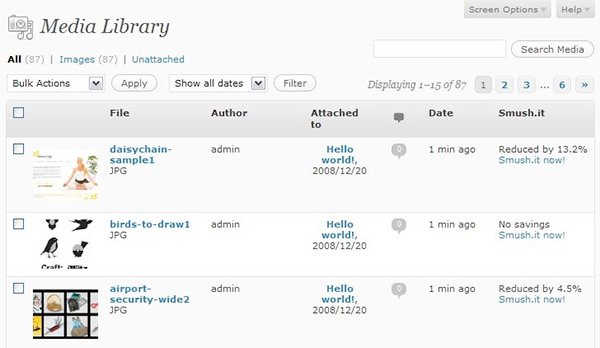 Compressing the images on your site will help reduce load times drastically. You can go into the media library and bulk smush all of the images on your site at once. You can also manually smush the ones that you need to. This is an excellent tool, and your images don't experience a loss in quality.
Conclusion
If you are looking to create a wonderful site with the best plugins that you can find, this list should help you to manage and promote your site easily. These essential WordPress plugins are meant to make your life easier by optimizing tough tasks or making time consuming tasks much quicker. This will enable you to focus more on content and less on management.
What plugins do you use on your WordPress site? Do you use any essential WordPress plugins that I haven't listed here? If so, be sure to list them in the comments. What is your most essential WordPress plugins?